İndirim!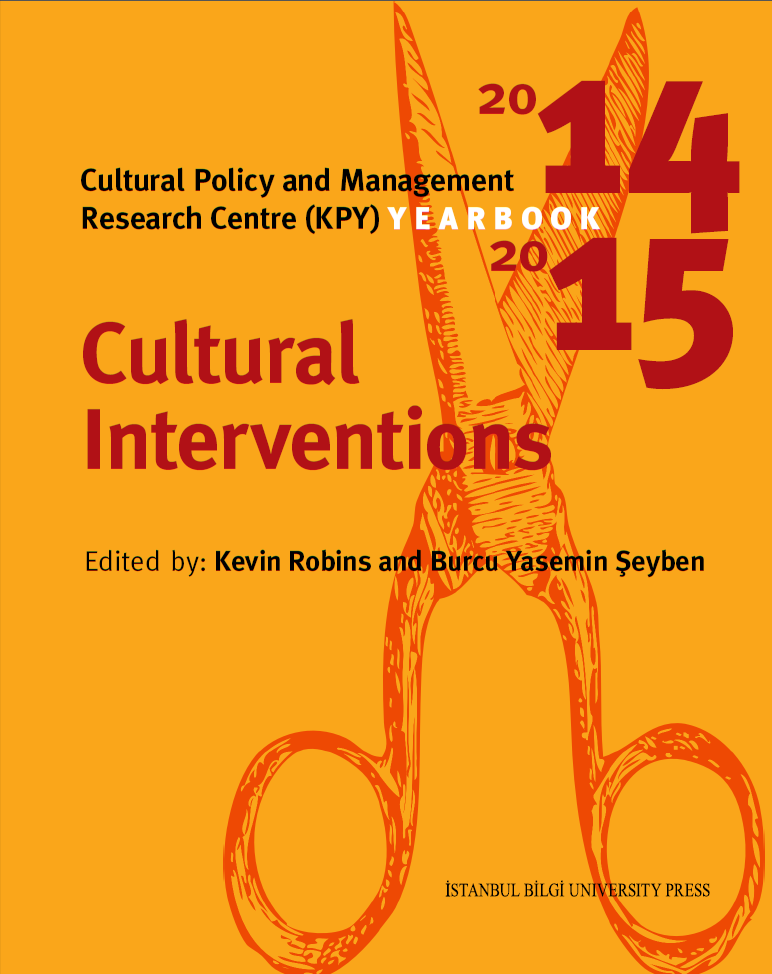 Cultural Policy and Management Yearbook 2014-2015
ISBN / SKU: 978-605-399-436-7
Ocak 2016
|
210
sayfa
|
19x24 cm
Derleyen: Burcu Yasemin Şeyben, Kevin Robins
The KPY Yearbook is published by the Istanbul Bilgi University's Cultural Policy and Management Research Centre (KPY). Every issue hosts analytical and critical essays, reviews of prominent trends, ideas and dynamics that shaped the cultural management and policy field in the course of the past year, from Turkey and around the world. In this issue, the topic is Cultural Interventions.
Foreword
Focus: Cultural Interventions
Introduction: Cultural Policy and Cultural Politics in the Twenty-First Century
Kevin Robins
State
Transforming Cultural institutions: Searching for Viable Models as a Prerequisite for Independence, Artistic Excellence and Responsible Management
Nina Obuljen Koržinek
State of Confusion: Public, Commercial or Philanthropic? UK Arts and Culture Policy in 2015
Christopher Gordon
Negotiating the Governmentality of Film in the UK
Richard Paterson
Kazakhstan's Way – 2050: Multiculturalism, State Cultural Policy, and Post-Soviet National Consolidation
Terry Sandell
A Centralised Decentralisation: Outsourcing in the Turkish Cultural Heritage Sector
Daniel David Shoup, Sara Bonini Baraldi and Luca Zan
Storm Over Culture: Transformation of Cultural Policy in Turkey?
Asu Aksoy and Burcu Yasemin Şeyben
State Support in Cinema and Censorship
Pelin Başaran
Civil Society
The Past of 'Commons' Politics and its Political Potential after the Gezi Resistance
Zeyno Pekünlü
Resources and Shortcomings of Pluralism in Today's Turkey: Gezi Park Protests in the Light of Pluralism
Cengiz Aktar
The Failure of a Project: Gezi Park, and More
Vasıf Kortun
The Gezi of the Fans: ACAB, Anti-x and Politicisation
Tanıl Bora
#occupylove
Rasim Erdem Avşar
Protesting into the Void: Bulgarian Citizens Discover Impunity
Ivaylo Ditchev
Open Space
Crossing Borders: Cultural Policy Research and the Politics of Development
Jonathan Vickery
Rules of Good Participatory Governance in the Allocation of Public Funds to Artists and Cultural Organisations: A Practical Guide
Charles Vallerand and Azadeh Lessard
Shopping Malls as Cultural Spaces
Özlem Canyürek
A Letter from Syria
Liwaa Yazji
Obituary
Özgür Uçkan as an Intellectual
Serhan Ada
In memory of Dr. Özgür Uçkan
Erkan Saka
Reviews
Strategic Analysis of the Design Field in Turkey within the Framework of the 'Design Strategy Document and Action Plan'
Gökçe Dervişoğlu Okandan
To Each His Own Cinema
Ares Shporta
Syriza's Cultural Policy
Theodora Tsitoura
Museum, Technology and Democracy: A Review of Democratising the Museum: Reflections on Participatory Technologies
Elif Çiğdem Artan
Methodology for the Inventory of Intangible Cultural Heritage in Biosphere Reserves: the Montseny Experience
Lluís Garcia Petit
The 18th IFOAM World Organic Congress
Buğday Association
'They'
Nihan Dalbeler
Contributors
_