İndirim!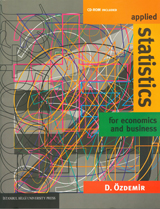 Applied Statistics for Economics and Business
ISBN / SKU: 9756857226
Ekim 2001
|
360
sayfa
|
23x27 cm
This textbook introduces readers to practical statistical issues by presenting them within the context of real-life economics and business situations. It presents the subject in a non-threatening manner, with an emphasis on concise, easily understandable explanations. It has been designed to be accessible and student-friendly and, as an added learning feature, provides all the relevant data required to complete the accompanying exercises and computing problems, which are presented at the end of each chapter. It also discusses index numbers and inequality indices in detail, since these are of particular importance to students and commonly omitted in textbooks. Throughout the text, it is assumed that the student has no prior knowledge of statistics. It is aimed primarily at business and economics undergraduates, providing them with the basic statistical skills necessary for further study of their subject. However, students from other disciplines will also find it relevant.
Introduces the reader to practical statistical issues by presenting them within the context of real-life economics and business situations
_