İndirim!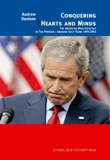 Conquering Hearts and Minds: The American War Ideology in the Persian/Arabian Gulf, 1990-2003
ISBN / SKU: 9756176326
Ekim 2005
|
329
sayfa
|
16x23 cm
This book offers an exposition of the official American ideology of war in the Persian/Arabian Gulf: an ideology whose principal aims have been the manipulation and militarization of US public-political culture and the imperial reassertion of American global power. The book shows how the official war ideology was put in place by successive American presidents in order to justify the wars in Kuwait, Afghanistan, Iraq, and against the Al Qaeda Islamist movement more generally. Written for a broad audience, Conquering Hearts and Minds offers an accessible analysis for a wide variety of readers interested in the relationship between America and the Middle East, the "war on terrorism," the troubled state of international affairs and politics, and alternatives to endless war.
_