İndirim!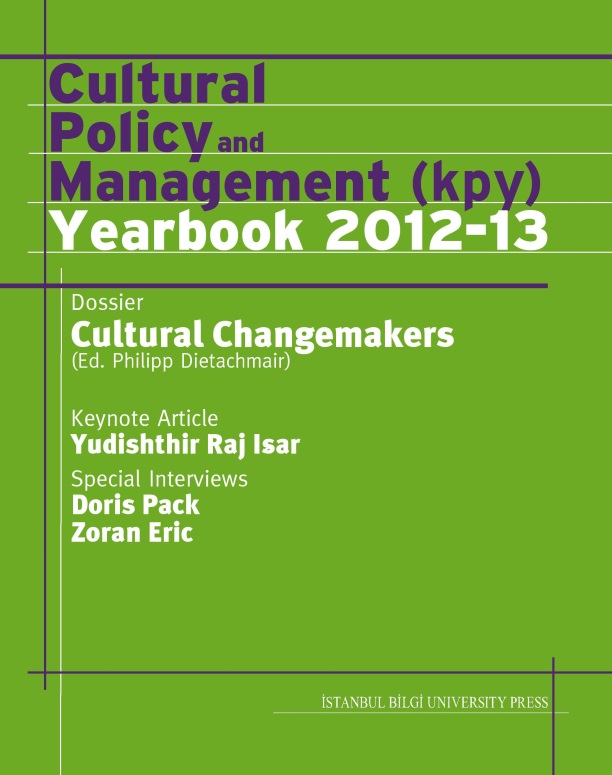 Cultural Policy and Management (KPY) Yearbook 2012-2013
ISBN / SKU: 978-605-399-328-5
Ocak 2013
|
178
sayfa
|
19x24 cm
Yayına Hazırlayan: Ayça İnce
KPY Yearbook 2012 – 2013 concentrates on the role played by cultural actors during the change and transformation processes revealed as a result of crises and what kinds of innovative strategies, management and policy tools are formed as a result. This issue aims to question the types of creative management and policy proposals conveyed from the culture-arts front in a setting we are right in the midst of worldwide and where the civil society's mode of participation in politics is renewed and to compile the reviews in this regard.
Table of Contents
Foreword
Keynote Article
Is the Concept of 'Autonomy' Worth Revisiting?
Yudhishthir Raj Isar
Dossier: Cultural Change-makers
From the Editor of the Dossier
Philipp Dietachmair
The Role of New Cultural Strategies In the Times of Crisis: Interview with Doris Pack
Interview by Philipp Dietachmair
Curatorial Strategies in the Chaging Cultural Climate of Serbia: Interview with Zoran Erić
Interview by Ferhat Özgür
Syrian Culture in Turbulent Times
Nadia Von Maltzahn & Rana Yazajı
Legalizing the Occupation: The Teatro Valle as a Cultural Commons
Saki Bailey & Maria Edgarda Marcucci
Leadership in Arts and Culture in Croatia and a Paradigm Shift
Sanjin Dragojević and Vitomira Lončar
A Civil Society Initiative in the Current Crisis of Cultural Institutions in Bosnia and Herzegovina: cultureshutdown.net
Maximilian Hartmuth
Serbian Cultural Managers on Crowdfunding – Context, Fears and Hopes
Goran Tomka
New Economic Practice in Creative Scenes – Crowdfunding and Coworking
Corinna Vosse
Cultural Governance: From Challenges to Changes – CultureWatchEurope Meeting
Other Articles
Decentralisation of Culture in Latvia during the Transition Period, 1991-2010: Institutional Transformations
Baiba Tjarve
Sustainability Aspects of Cultural Entrepreneurship
Lidia Varbanova
Reviews
Shifting Patterns in Cultural Management:Sismanoglio Megaro as a Success Story
Artemis Papatheodorou and Stella Kladou
'More Europe' – Culture in External Relations
Gottfried Wagner
Current Cultural and Political Culture Trends in Europe
Michael Wimmer
The Benefits of Empowering Cultural Participation of International Migrants: 'Raising Awareness about International Migration in Istanbul' Project
Nil Delahaye
A Common World by Marina Garcés
Book Review by Rubén Díaz
Creative Urban Projects: How to Bring the European Cultural Capital to the Housing Projects?
Camille Bertrand-Hardy
Re-visiting Cultural Policy in Turkey: A Sense of Déjà-vu
Serhan Ada
Here We Are: The Imagination of Public Space in Gezi Park
Can Altay
The impact of the Gezi protests on the Istanbul art world
Rümeysa Kiger
A Model Experiment in Renewal In Accordance with the Wishes of the Inhabitants: a Feasibility Project Concerning the Restoration of the Historic Fortressed Walls surrounding Diyarbakir
Yıldız Salman
'Right to the City' – 'Pravo na Grad' in Zagreb Tomislav Medak, Tomislav Domes ve Teodor Celakoski
2013 Annual KPY Top 15 News Selection
_