İndirim!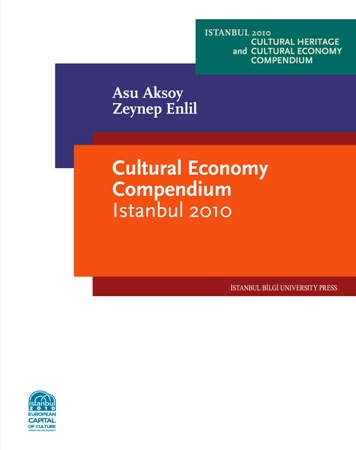 Cultural Economy Compendium Istanbul 2010
ISBN / SKU: 978-605-399-216-5
Temmuz 2011
|
272
sayfa
|
19x24 cm
This book which is published under the scope of the project entitled Istanbul Cultural Heritage and Economy Inventory and implemented by Istanbul 2010 European Capital of Culture Agency, Directorate of Cultural Heritage and Museums compiles the cultural structure of a metropolitan city such as Istanbul by being examined in a comprehensive manner for the first time. The cultural management, infrastructure, actors, legal framework of the city is being analyzed in-depth in light of the reports, statistics and comparative data prepared by various institutions and project team working on these issues within the Compendium system. Cultural Economy Inventory Istanbul 2010 constitutes a fundamental resource for politicians, managers, academicians and civil society organizations steering cultural policies in Istanbul.
INTRODUCTION
The Scope of the Istanbul 2010 Compendium Study
1. THE CULTURAL MANAGEMENT OF LOCAL ADMINISTRATIONS IN ISTANBUL
2. AUTHORITIES, DECISION-MAKING AND
ADMINISTRATION AT THE LOCAL LEVEL
Introduction
Public Management of Culture in Istanbul
Central Government Field Branches in Culture and Tourism
Organisation of Cultural Provision by the Special Provincial Administration
Organisation of Cultural Provision by Istanbul Metropolitan Municipalit
Organisation of Cultural Provision by Local District Municipalities
Organisation of Cultural Provision by Other Public Bodie
3. CULTURAL POLICY IN ISTANBUL AND THE DEBATES ON CULTURAL POLICY
A New Perspective on Cultural Management
Cultural Heritage Policy
Conclusion
4. THE CULTURAL ECONOMY AND CULTURAL INFRASTRUCTURE OF TURKEY
THE CULTURAL ECONOMY OF ISTANBUL
The Contribution of the Cultural Economy of Istanbul to Employment
Istanbul Cultural Economy Employment According to TurkStat 2002 data
Comparison Between Istanbul and London
Number of Active Cultural Establishments in Istanbul
Added Value of Cultural Activities in Istanbul
Foreign Trade
Development Indicators of the Cultural Economy in Turkey
Sectoral Analysis - Cultural Economy
Arts
Cultural Industries
Creative Services
THE CULTURAL INFRASTRUCTURE OF ISTANBUL
Culture Exhibition, Performance and Consumption Centres
Cultural Heritage
Art Venues
Spaces of Cultural Consumption
Cultural Activities and Their Spaces
Festivals and Large Concerts
Art Fairs
The International Istanbul Biennial
Municipal Cultural Events
Cultural Education Establishments
Preservation Sites and Areas
SPATIAL ANALYSIS
CULTURAL TOURISM IN ISTANBUL
Tourist Profile and Average Length of Stay
Accommodation Infrastructure
The Cultural Triangle: Short Passes in Tight Spaces
Issues on Developing Cultural Tourism in Istanbul and Proposed Solutions
EVALUATION OF CULTURAL INDUSTRIES IN ISTANBUL
Comparison between Cultural Infrastructure of
Istanbul and other Metropolitan Cities
Comparison between Cultural Industry and
Creative Services in Istanbul and other Metropolitan Cities
Implications for Istanbul's Cultural Policy
5. FINANCE OF CULTURE
Cultural Expenditures by District Municipalities
Total Cultural Expenditures of Municipalities
Special Provincial Administration Budget for Culture
Role of Ministry of Culture and Tourism in Investments in Local Culture
Total Public Expenditures on Culture
Private Sector Investment in Culture
6. CULTURAL INSTITUTIONS AND THE MAIN PLAYERS
Non-public Sector Arts Institutions
Companies, Foundations, Associations and Cooperatives
Professional Organizations and Associations
New Means of Collaboration: Istanbul 2010 European
Capital of Culture Project
7. SUPPORT FOR CREATIVITY AND PARTICIPATION
Support for Artists
The Rights of Artists Over Their Work
Organisations and Legal Entities Selling the Works
Public Sector Support for Culture and the Arts
Participation in Culture
Supports for the Creative Industries
Bibliography
_