İndirim!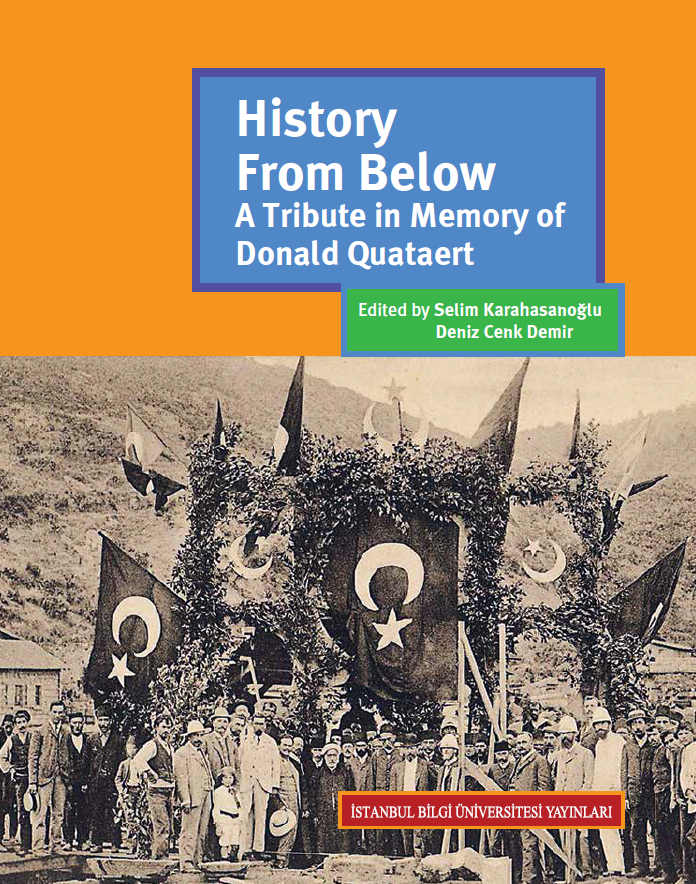 History From Below: A Tribute in Memory of Donald Quataert
ISBN / SKU: 978-605-399-449-7
Ağustos 2016
|
730
sayfa
|
19x24 cm
Derleyen: Selim Karahasanoğlu, Deniz Cenk Demir
Donald Quataert was, in narrow terms, an Ottoman labour historian and in wider terms, an economic historian of the late Ottoman Empire. The articles in this book are distributed across topics that Quataert worked on throughout his academic life. An article takes up the topic of his thesis on "Famine in Turkey" that he prepared whilst still a master's student at Harvard University, another contribution responds to his final work on Zonguldak mine workers._x000D_
Most, however, have some relationship to the 19th-century Ottoman economy, Quataert's particular field of expertise.
_x000D_
Of the 33 authors who have contributed the 32 academic articles that make up this book, 17 were students at Binghamton. Eleven of them wrote their theses under Donald Quataert. There are 10 memorial pieces in this book. Quataert's work fell squarely within the research agenda of history from below, and the people he worked on were, in Hobsbawm's words, "the sort of people whose names are usually unknown to anyone except their family and neighbours," and as a result, the title of this book is History from Below.
Introduction
Selim Karahasanoğlu
Donald Quataert: A Complete List of Academic Activities
Updated and Prepared for Publication by Selim Karahasanoğlu
MEMORIES
Donald George Quataert: Historian of Late Ottoman History
Jean H. Quataert
Donald Quataert, my Father
Eliot Quataert
Donald Quataert and the Fernand Braudel Center
Immanuel Wallersteın
Donald Quataert: A Testimonial
Heath W. Lowry
Donald's Memorial
Rıfa'at Ali Abou-El-Haj
Memories of Donald Quataert
Suraiya Faroqhi
Thoughts on Donald Quataert
Reşat Kasaba
Donald Quataert
Roger Owen
Donald Quataert: A Humanist
Amy Singer
The Don Quataert I Knew
David C. Cuthell
ARTICLES
Donald Quataert and Ottoman Historiography
The Education of an Ottomanist: Donald Quataert and the Narrative Arc
of Ottoman Historiography, 1985-2011
Ariel Salzmann
Donald, Me, and the Uncommon People
Onur Yıldırım
New Vistas in Ottoman Historiography
The Formation of the Ottoman Empire from a World-Centric Perspective
Barış Ünlü
The Tereke and Contingent Tweets: A Proposed Model for Massaging the Medium
Joyce Hedda Matthews
The Tulip Age in Ottoman Historiography: A Critique
Selim Karahasanoğlu
A Proposal for a Global Economic History: Beyond the Histories of Stagnation and Deficiencies to "Living" Histories of Possibilities
Huri İslamoğlu
Economy and Agriculture
The Economic and Charitable Activities of the Ottoman Chief Harem Eunuch (Darüssaade Ağası) in the Ottoman Provinces
Jane Hathaway
A Perspective from Çukurova: Issues of Landholding in Ottoman History
Meltem Toksöz
Unification of the Market, Fragmentation of the People: Famine and Migration on the Trabzon-Bayezid Road in the Late Ottoman Empire
Fulya Özkan
Guilds, Commerce, Credit and Consumption
Capitulations, Commerce, and the Rise of an Ottoman Bourgeoisie in Galata, 1750-1850
Fariba Zarınebaf
Consumption at the Beylical Court of Tunis, 1750-1850
Amy Kallander
Kethüdas: The Guild Wardens of Early Nineteenth-Century Istanbul
Nalan Turna
Perspectives on Merchant's Credit
Çağlar Keyder
The Ottoman Monetary System and Early Banking in the Ottoman Empire
Elena Frangakis-Syrett
Industry: Tiles and Textiles
From Bursa to Jerusalem: From Yeşil Türbe to the Dome of the Rock
Beatrice St. Laurent
Survivals of Ottoman Textile Production Systems in Anatolia
Charlotte Jirousek
Labor & Women's History
Gender and the Politics of Reproduction in the Late Ottoman Society
Gülhan Balsoy
The Şirket-i Hayriye Pension Fund, Right to Retirement and Labor Control (1893-1932)
Nurşen Gürboğa
The Impact of State on Working Class Identity in the Zonguldak Coal Basin in the Ottoman Empire and Turkey: Some Preliminary Findings
H. Tarık Şengül - E. Attila Aytekin
A Passage to the Village: Gender and Nationalist Tensions
in Turkish Public Education between 1928 and 1947
Elif Ekin Akşit
Crime, Violence and Social Control
From State-Affilliated Groups to Local Paramilitaries: The Formation of New Security Mechanisms and the Rising Military Power of Albanians in Ottoman Salonika, 1750-1810
İrfan Kokdaş
The Role of Janissaries in Early Nineteenth Century Istanbul Rebellions
M. Mert Sunar
Fear, Hatred, Suspicion, and Attempts to Protect the Legitimacy of the Sultan: Istanbul Fires as Reflected in Şânî-zâde's Chronicle
Suraiya Faroqhi
The History of Illumination with City Gas in Late Ottoman Istanbul
Nurçin İleri
Anarchists and Anarchism in the Ottoman Empire, 1850-1917
Axel B. Çorlu
Press
Giving an "Active Voice" to Ottoman Urban Workers: Hadika and Forming Public Opinion for Resistance in 1872-73
Gül Karagöz Kızılca
Karagöz and the Charcoal Seller
Palmira Brummett
Sufis and Ulema
Muslihiddin Lari (d. 1572): The Fate of an Immigrant Polymath in the Sixteenth Century Ottoman Empire
Baki Tezcan
Was the H.ak. ayık. Dergeh-i Mısrī in the Anatolian City of Bursa or on the Aegean Island of Limni (Limnos)?
Heath W. Lowry
The Ottoman Empire on the Eve of Its Disappearance and Early Years of the Republic
Feelings of Gratitude: Muslim Rescuers of Armenians in Adana 1909
Abdulhamit Kırmızı
Two Lives in Izmir at the End of World War One
Reşat Kasaba
Turkey in the First World Crisis: From Authoritarianism to Totalitarianism
Erik-Jan Zürcher
Name Index
Region Index
General Index
Album
Donald Quataert was a remarkable person, a warm, enriching, and moral presence in our field; his combination of good humor and clarity was inimitable. We shared much over the years, including oncological tales. When he told me six years ago of the aggressive treatment he had undertaken he told me, with a smile and relief, that he felt had five more years in which to finish his projects. As in so many things, Don was right.
Cornell H. Fleischer, The University of Chicago
What a generous spirit Don Quataert was! He was genuinely interested in young scholars and always gracious in celebrating the work of others. He was warm, funny, and always intellectually engaged. We will truly miss him.
Palmira Brummett, Brown University
Donald was a generous mentor to young scholars. I remember his encouragement during my first months in the Başbakanlık Arşivi so many years ago. He was a great colleague: thoughtful, critical, enthusiastic, and clear-minded and articulate in his ideas. Donald will be very much missed, and we are grateful to him for giving so much of himself while among us, and for leaving such a rich legacy to be studied by us and the students to come.
Amy Singer, Tel Aviv University
_