İndirim!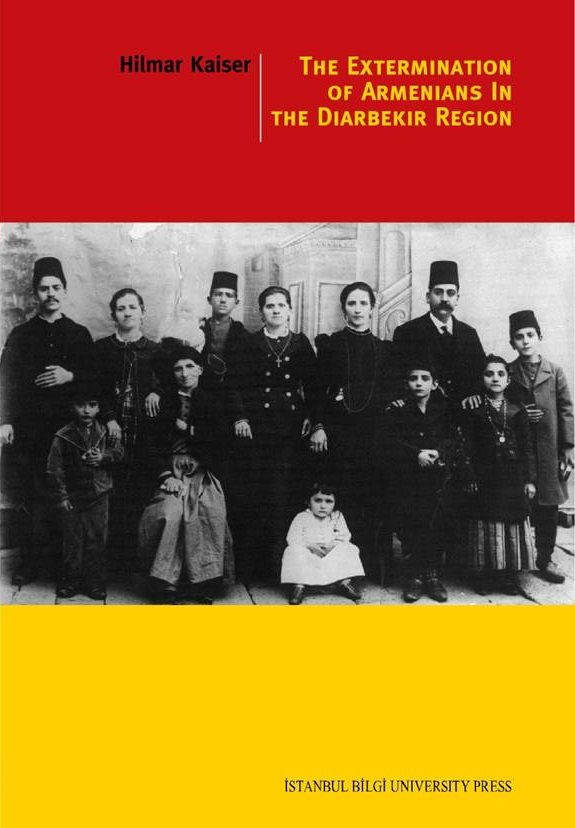 The Extermination of Armenians in the Diarbekir Region
ISBN / SKU: 978-605-399-333-9
Nisan 2014
|
464
sayfa
|
16x23 cm
Yayına Hazırlayan: Cem Tüzün
This is a study based largely on neglected sources from Turkish and Armenian archives covering the years 1908 to 1915. It discusses the rise of the "Committee of Union and Progress," the nascent Kurdish nationalist movement, and the annihilation of the Ottoman Armenian population. The deportation and massacre of Armenians was a complex process with central authorities in Istanbul, regional governors, and local elites competing for control. Consequently, decision-making, deportations, assimilation policies, the seizure of Armenian properties as well as the settlement of Kurdish and other Muslim groups appear in a new light. Rather than following a strict preconceived plan, Ottoman authorities regularly implemented ill-defined policies. Often they followed suggestions from governors._x000D_
The book does not present the developments in the region in a dichotomous perspective but emphasizes complexities beyond the governing paradigms and opens new avenues for research and discussion.
Introduction
PART ONE
CHAPTER 1 Social Conflict
Industry
Population
CHAPTER 2 The 'Old Order' in Diarbekir Province:
Urban Notables and Rural Tribes
The 1905 Coup
The 1907 Coup
CHAPTER 3 The CUP's Rise to Power
CHAPTER 4 The Assault on the Milli Confederation
Atrocities Committed Against the Sharkian Tribe
The Aftermath of the Atrocities
CHAPTER 5 Local Politics
The Kurdish Club
CHAPTER 6 Kurdish Resistance to CUP Rule in Diarbekir Province, 1909-1914
PART TWO
CHAPTER 7 The Last Months of Peace
Mobilization and Requistions
The Diarbekir Fire
Internal Security in Diarbekir Province
CHAPTER 8 The Early Months of the War
CHAPTER 9 The Appointment of Governor Reshid Bey
CHAPTER 10 The Alleged Armenian Threat
CHAPTER 11 The Creation of a Terrorist Organization
A 'Two-Track System' of Government?
CHAPTER 12 Targeting the Armenian Elite
Further Arms Searches
Was Diarbekir an Armenian Revolutionary Center?
The Murder of Arshag Vramian
The Annihilation of Diarbekir's Armenian Elite
The Annihilation of Ottoman Armenian Leaders in Diarbekir Province
The Murder of Krikor Zohrab and Vartges Serengulian
The Hunt for the Killers
Decorations
Justifications
CHAPTER 13 Reshid Bey and American Missionaries
'A Suspicious Death'
The Case of Albert Atkinson
CHAPTER 14 Deportations
The Experiences of Armenian Deportees
Ottoman-German Opposition Against Reshid Bey at Mosul
Reshid Bey's Agenda
The Limits of Central Government Coordination
Micro Managing?
The Death Toll
CHAPTER 15 Exemptions
CHAPTER 16 Armenian Property
CHAPTER 17 The Failed 'Turkification' of Diarbekir Province
CHAPTER 18 Mardin
Expelling Mardin's American Missionaries
CHAPTER 19 Midiat
CHAPTER 20 Hazak - Djezire
CHAPTER 21 The Fringe of the Desert
Tell Arman
Kesor
CHAPTER 22 Severek District
Veranshehir
CHAPTER 23 Urfa
19 August 1915
The Annihilation of the Armenian Labor Battalion Soldiers
CHAPTER 24 Rasulain
CHAPTER 25 The Assassinations of Husein Nesimi Bey and Ali Sabid Bey
Conclusion
Bibliography
Index
Hilmar Kaiser'in İstanbul Bilgi Üniversitesi Yayınları'nca İngilizce olarak basılan kitabı 'The Extermination of Armenians in the Diarbekir Region' (Diyabakır Bölgesinde Ermenilerin Yok edilmesi) bugüne dek kullanılmamış Osmanlı belgelerine dayalı olan ilk vaka çalışması olma özelliğine sahip. Kaiser, 'tüm zamanların en büyük suçlularından biri' olarak nitelendirdiği Diyarbakır Valisi Dr. Reşid ve yörenin ileri gelen ailelerinin, soykırım ve öncesindeki katliamlardaki payını, İttihat ve Terakki politikalarıyla ilişkili olarak, somut belgelere dayanan ayrıntılı bir araştırmayla yeni baştan değerlendirirken; soykırım tartışmasındaki yaygın görüşlere alternatif karmaşık bir güç ilişkileri modeli öneriyor.
Evrim Kaya, 28 Temmuz 2014, Agos
http://www.agos.com.tr/tr/yazi/7675/1915te-kolektif-kurt-sucu-yok-ama-sorumluluk-orada-duruyor
_