İndirim!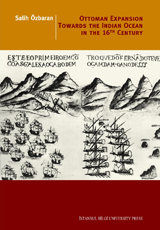 Ottoman Expansion Towards The Indian Ocean in The 16th Century
ISBN / SKU: 9786053990628
Nisan 2009
|
416
sayfa
|
16x23 cm
With its conquest of the Arab lands in the 16th century, the Ottoman Empire (1300–1923) came to control some of the major entrepots of the Indian Ocean trade in the west. This expansion, however, also brought the Ottomans into confrontation with the Portuguese, who were seeking to establish a monopoly of the lucrative spice trade. Renowned historian on the subject, Salih Özbaran offers a comprehensive overview of the subject which has until now only been available in Özbaran's publications in Turkish._x000D_
_x000D_
.
Preface
INTRODUCTION Scenery, Sources and Historiography
Scenery
Sources
Ottoman Sources
Portuguese Sources
Arabic and Persian Sources
Historiography
PART ONE Expansion
1 The Coming of the Portuguese to the Red Sea and the Persian Gulf
Introduction
Early Encounters
2 The Ottoman Penetration into the Red Sea
Introduction
The Beginning of an Unprecedented Era
3 The Ottomans and the Wider World
The Circumstances Leading to the Siege of Diu
The Diu Expedition, 1538
The Consequences Following the Diu Adventure
4 The Ottomans in the Coastlands of the Persian Gulf
Introduction
Ottoman Expansion Towards Baghdad and Basra
New Route, New Approach
5 The Ottoman-Portuguese Confrontation off Hormuz
Pîrî's Campaign Against Hormuz, 1552
The Advanture of Seydî Ali and its Aftermath
6 The Bahrain Episode, 1559
Introduction
A Narrative of the Bahrain Episode
Withdrawal of Invaders
7 The Sporadic Actions of a Land-Bound Empire
Ottoman aid to the Atjehnese Sultan in Sumatra
Interest in Bahrain
The Raids of Ali Bey on Muscat and East African Coast
PART TWO Provincial/Fiscal Organizations
1 An Introduction to Provincial/Fiscal Organization in Southern Territories
Introduction
Military/Fiscal Organization
2 The Province of Egypt
Introduction
Provisioning Hijaz
The Importance of Suez
Some Vicissitudes of Egypt
3 The Province of Yemen
Introduction
A Short Chronology
Administration
4 The Provinces of Basra and Lahsa (al-Hasa - )
Arab Tribes and the Ottoman Government
The Ottoman Administration of Basra and Lahsa
Further Examples of Tax-Collectors in the Provinces of Basra ans Lahsa
5 The Province of Habeş (Abyssinia)
Introduction
A Short Chronology
Administrative and Fiscal Structure
PART THREE Military Structures
1 Land Forces I
Introduction
Some General and Specific Views on the Subject
Reflections from the Mevâcib Registrations for the Year 1555
Gönüllüyân, Azebân and Mustahfizân in the Province of Basra in 1555
2 Land Forces - II
The Payroll Records For the Year 1580
Merdân of Yemen in 1580
Azeban of Yemen in 1580
Müteferrikagân of Yemen in 1580
Gönüllüyan of Yemen in 1580
Mustahfizân of Yemen in 1580
Tüfenkciyân, tobc,yân and others of Yemen in 1580
The Payroll Records For the Year 1600
The Troops in the Town of Basra
Müteferrikagân of Basra in 1600
Çavuşân of Basra in 1600
Gönüllüyân of Basra in 1600
Azebân of Basra in 1600
Alatciyân of Basra in 1600
Merdân of Basra in 1600
Tobciyân of Basra in 1600
The Troops Stationed Outside the Town of Basra
Azebân in the Province of Basra
Merdân in the Province of Basra
Gönüllüyan in the Province of Basra
Tobciyân in the Province of Basra
Total Expenditure
3 Naval Forces
Introduction
Naval Bases in the Indian Ocean
The Office of Kapudans
Suez
Mocha
Basra (Remle) and Lahsa
The Numbers and Wages of Permanent Naval Forces
Some Concluding Remarks
4 Ottomans and the Diffusion of Fire-Arms Around the Indian Ocean
Introduction
A Chronological Survey
PART FOUR Trade
1 Ottomans and India Trade – I
Introduction
A Chronological and Statistical Survey
Ottomans and India Trade – II
Chronological and Statistical Survey - Continued
Basra
Yemen
Summing Up
CONCLUSION
APPENDICES
Appendix I A Letter from Dom Aleixo de Meneses, 1517
Appendix II The Report of Selman Reis Written in 1525
Appendix III A Letter of Dom Manuel de Lima, 1547
Appendix IV A Letter of Ra'is Nuraddin, 1552
Appendix V The Ottoman Budget of Yemen, 1560-61
Appendix VI An Imperial Letter from Sultan Süleyman, 1564
Appendix VII A Ruus Register of Appointments in Basra
Appendix VIII An Imperial Order to the Beylerbeyi of Basra, 1573
Appendix IX An Imperial Order to the Beylerbeyi of Baghdad, 1575
Appendix X Mukâtaa Revenues of Basra in 1600
Appendix XI Salaries and Wages in Basra, 1600
Appendix XII The Gönüllüyân of Basra, 1600
Appendix XIII The Azebân of Basra, 1600
Glossary
Sources and Bibliography
Index
For more than forty years, the history of Ottoman expansion in the Indian Ocean has been a subfield virtually synonymous with the name Salih Özbaran. As the first Turkish historian to have ventured into the Portuguese archives in the 1960s, he has since then produced an uninterrupted stream of new research on the subject, and is today internationally recognized as its foremost authority.
Giancarlo Casale, Ler Historia