İndirim!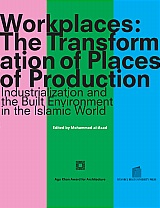 Workplaces: The Transformation of Places of Production
ISBN / SKU: 978-605-399-165-6
Aralık 2010
|
352
sayfa
|
21,5x28
This book which comes out of the "Transformation of Places of Production" seminar organized by Aga Khan Award for Architecture in cooperation with Istanbul Bilgi University in January 2009, is a first publication on the topic of industrial facilities in the Muslim World. Most chapters generously illustrated, the book addresses diverse developments affecting industrial architecture both chronologically and geographically and examines them within their technological, socio-economic, as well as urban contexts._x000D_
Accompanying DVD contains English language and Turkish language versions of the short documentary film hosted by architect Süha Özkan, entitled: My workplace: a documentary film on contemporary industrial architecture in Turkey.
Preface
Farrokh Derakhshani
Introduction:
Exploring industrial architecture in the Islamic world
Mohammad al-Asad
I. Chronological / geographic overviews
Industrial architecture and nation-building in Turkey: A historical overview
Sibel Bozdogan
Industrial architecture in Egypt from Muhammad 'Ali to Sadat: A field survey
Ralph Bodenstein
The evolution of industrial architecture in Iran
Faryar Javaherian
An overview of the development of industrial architecture in Malaysia
Casey Tan Kok Chaon
II. Contemporary designs
The factory factor: Two industrial projects from Syria
Sinan Hassan
Projects by Foster + Partners
David Nelson
III. Agro-industrial projects and socio-economic development
IPS Agro: Industrial projects in the coastal regions of Kenya
Jim Garnett
Working grounds: Four agro-industrial projects
Hashim Sarkis
IV. The adaptive reuse of industrial facilities
Adaptive reuse of industrial buildings at Bahçeşehir University
Ahmet Eyüce
Santralistanbul: Architectural problematics
İhsan Bilgin
V. Contexts and future visions
Transformation of workplaces in Istanbul: Some macro urban form suggestions
Süha Özkan
Places of production: An engineer's perspective
Hanif Kara
Afterword
Mohsen Mostafavi
VI. Impressions: A photo essay on industrial architecture in Turkey
Cemal Emden
List of authors in this monograph and seminar participants
Credits and acknowledgements for the My Workplace film
Illustration credits
_