İndirim!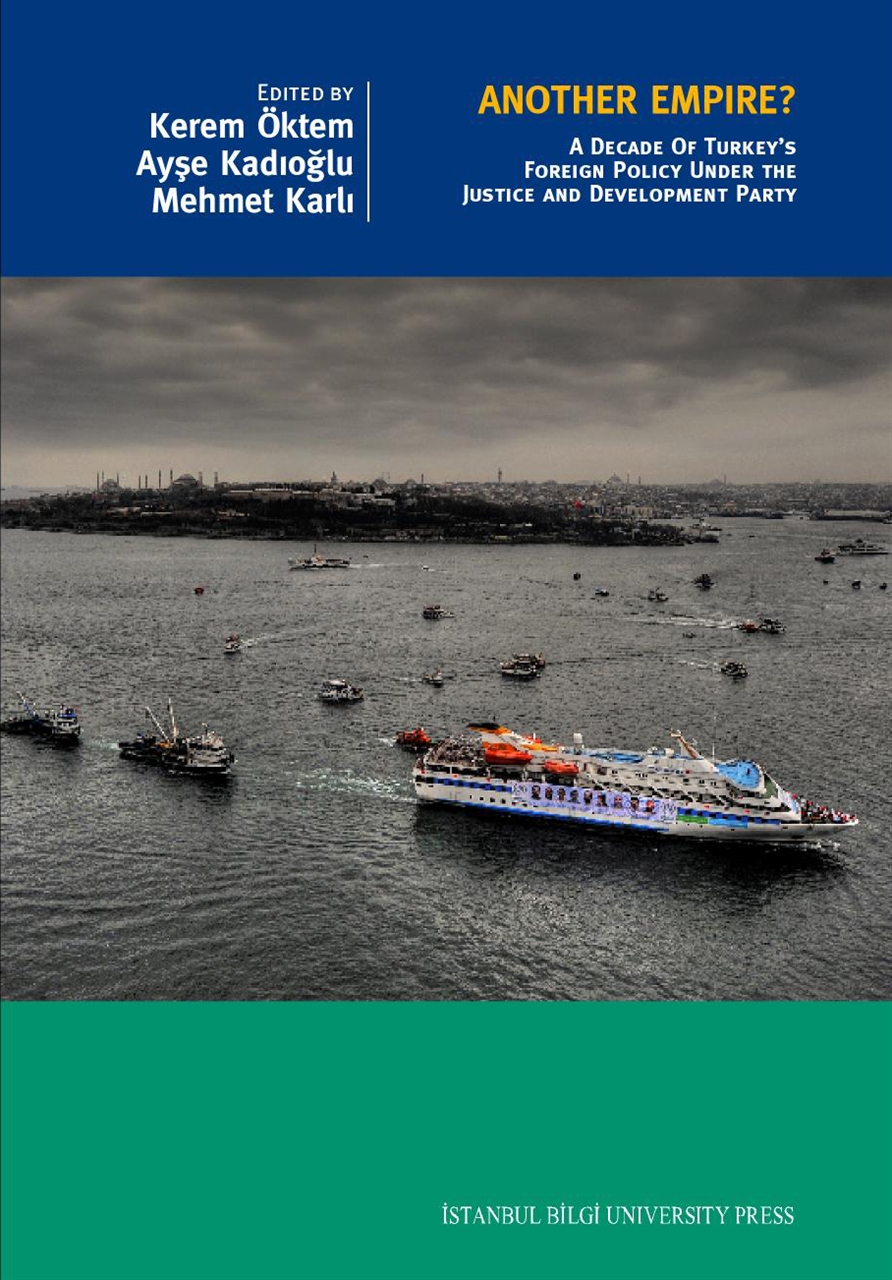 Another Empire?
ISBN / SKU: 978-605-399-236-3
Mayıs 2012
|
309
sayfa
|
16x23 cm
Yayına Hazırlayan: Can Cemgil
Editör: Kerem Öktem, Ayşe Kadıoğlu, Mehmet Karlı
Are Turkey's new hegemons, the conservative elites of the Justice and Development Party and their allies, following a 'neo-Ottoman' foreign policy geared at recreating the Empire? Is Turkey steering away from the "West" and into the troubled waters of Middle Eastern conflict politics? How seriously do we need to take the allegations of Turkey's "change of axis"? And what does this mean for Turkey's neighbors in the West and East? The authors of Another Empire? address these burning questions from different conceptual and political points of departure. Their answers are varied, but they agree on one thing: There is certainly no reason to panic, and no "change of axis", even though there is a need for a critical discussion. Another Empire is a comprehensive and timely exploration of Turkey's foreign policy and changing place in the world. Focusing on the decade of Justice and Development Party (JDP) rule from 2002 to 2012, this collection of essays seeks to explain the domestic foundations of Turkey's international relations and relations with the United States and the European Union.
The Editors and The Eauthors
Acknowledgements
Preface: A Proactive Policy with Many hunches on the Back - Baskın Oran
Introduction - Kerem Öktem - Ayşe Kadıoğlu
The Chapters
CHAPTER ONE Turkey's Transformations: New Classes and Identities, New Actors and Networks
Proactivism in Turkish Foreign Policy: The Global-Local Nexus - Fuat Keyman
Capacity: Identity-Perceptions of Turkey
Conclusion: Realism and Sustainability
Limits of Conservative Change: Reform Choreography of the Justice - Ayşe Kadıoğlu
The Reformist and Innovative Nature of the AKP
The International Setting and its Impact on the Reform Process
Five Moments of Decline
Domestic Impediments to Reform
Conclusion: The AKP's Reform Choreography
'Democratic Depth': The Missing Ingredient in Turkey's Domestic/Foreign Policy Nexus? - Nora Fisher Onar
Introduction
Framing Strategic Depth: A Heuristic Success
Unpacking Strategic Depth: The Normative Dilemma
Democratic Depth: The Missing Ingredient?
Conclusion
Projecting Power: Non-Conventional Policy Actors in Turkey's International Relations - Kerem Öktem
Ideological Power: Neo-Ottomanism and A Conservative Model of Muslim Democracy
Foreign Policy Instruments of the Prime Ministry: Development aid, Cultural Cooperation and Religious Services
Development aid by the Turkish International Cooperation and Development Agency
Cultural Dipolmacy
'Religious Diplomacy and the Diyanet (Presidency of Religious Affairs)
The New Networks: Muslim Missionaries, Businessmen and Lobby Groups
Educational Networks
Lobbying
Popular Culture: Projecting Power
Conclusion: The Risk of Self-Referential Information Loops
Discourse vs. Figures: A Reality Check for Turkey's Economic Depth - Mehmet Karlı
The Discourse of Turkey as A Global Economic Power
The Rise of a New Geography
Turkey and Global Economic Power Balances: Size Matters
The New Geography in Context
The Myth of the Turkish Growth Miracle
Turkey as A Regional Economic Power
The Evolution of Turkish Foreign Trade: Context Matters
Contextualizing the Size and Growth of Turkish Foreign Trade
Structural Vulnerabilities of the Turkish Economy and Their Implications
The Transformation of the Composition of Turkish Exports and Imports: A Structure-Driven Process
Turkish Exports
Financing Turkish Growth Through FDI: Old Friends Always Matter
Conclusion
CHAPTER TWO The Western Alliance and Turkey's Southeast European Neighbourhood
The United States and Turkey in a Changing World - Joshua W. Walker
The Context of the American Republic and the Turkish Republic
The U.S.-Turkey Partnership in the Cold War
Post Cold War
Changes in Ankara
A Model Partnership for the 21st Century?
Problems in Washington
Points of Divergence for the U.S. and Turkey
Opportunities for Convergence for the U.S. and Turkey
Conclusion
What went Wrong in the Turkey-EU Relationship? - Nilgün Arısan Eralp - Atila Eralp
Changing Context of European Integration and Enlargement Policy
The Cyprus Factor
The State of Accession Negotations
Negative Turn in Turkey
Prospects of the Relationship
Turkey's Assertive Presence in Southeast Europe: Between Identity Politics and Elite Pragmatism - Othon Anastasakis
The Historical Approach: The Ottoman Legacy
The Cultural Approach: Muslim Solidarity
Economic Approach: The Rise of a Business Culture
The Pragmatic Approach: The Balkan "Windof of Opportunity"
Concluding Remarks
A Very Long Engagement: Turkey in the Balkans - Dimitar Bechev
Dealing with Uncertainty: Turkey and the Balkans in the 1990s
The Helsinki Moment
The Balkans in Turkey's Emerging Neighborhood Policy
Regional Diplomacy
Trade and Investment
Popular Cultura and Tourism
Conclusion
CHAPTER THREE The Eastern Neighbourhood
Arab Perceptions of Contemporary Turkish Foreign Policy: Cautious Engagement and the Question of Independence - Reem Abou-El-Fadl
Arab Preoccupations and the Place of Turkey in Historical Perspective
Turkish Foreign Policy Towards the Arab World Under the AKP: Turkey as an Emerging Middle Power
Arab States' Perceptions of Contemporary Turkish Foreign Policy
Egypt
Syria
The Resistance Movements
Arab Reception: Civil Society
Conclusion
Turkey's Iranian Conundrum: A Delicate Balancing Act - Karabekir Akkoyunlu
Determinants of the Turkish-Iranian Relationship: Beyond Popular Misconceptions
Balance of Interests and State Reason
From the 1980s to the 2000s
Turkey and the Iranian Nuclear Programme
Trade and Energy Ties
Nuclear Concerns
Turkish Policy Post-June 2009 Election
Historical Context
Security Ties
Beyond Shift of Axis: Turkish-Iranian Relations in the Age of Arab Revolts
Conclusion: The Real Balancing Act
The Litmus Test for Turkey's New Foreign Policy: The Historical Rapprochement with Armenia - Aybars Görgülü
Two Decades of Deadlock
Regional Implications of a Turkish-Armenian Rapprochement
Energy Transportation Projects
Domestic Implications of a Turkish-Armenian Rapprochement
The Future of Armenia-Turkey Relations
Conclusion
Epilogue - Kalypso A. Nicolaïdis
2003, Same Place
Index
_