İndirim!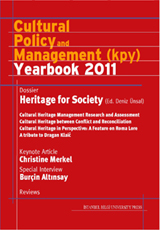 Cultural Policy and Management (KPY) Yearbook 2011
ISBN / SKU: 978-605-399-238-7
Mayıs 2012
|
168
sayfa
|
19x24 cm
The Yearbook features Christine Merkel's keynote article about the 2005 UNESCO Convention, a veritable magna carta of international cultural policy advocating for the protection and promotion of cultural diversity. The Dossier section, 'Heritage for Society', confirms the extent to which cultural heritage is intertwined with everyday life in Turkey as it is throughout the world. Further contributions to the Dossier underline the new approach to heritage and aim to highlight related research, projects, and assessments. This issue also pays tribute to Dragan Klaic, a curious and uncompromising intellectual dedicated to the protection of cultural diversity.
Foreword
Acknowledgements
Keynote Article
Fair Culture 2030: The 2005-UNESCO Convention on the Protection and Promotion of the Diversity of Cultural Expressions Christine M. Merkel
Dossier: "Heritage for Society"
From the Editor of the Dossier Deniz Ünsal
Interview with Burçin Altınsay Deniz Ünsal
The Value of Heritage for the Future Graham Fairclough
Cultural Heritage Management Research and Assessment
The Shifting Scope of Cultural Heritage and the Perception of 'Value of Cultural Heritage for Society – Faro Convention': A Preliminary Research Study for Turkey İclal Dinçer and Zeynep Enlil
Archaeology, Stakeholders, and Site Management Daniel Shoup
Contemporary Identity: A Drive for Successful Cultural Tourism Management Daniela Angelina Jelinčić
Effects of Cultural Tourism On the Natural Environment and Cultural Heritage:
The Case Of Eminönü Ece Irmak
Cultural Heritage between Conflict and Reconciliation
Three Hypotheses on the Establishment of a Cultural Heritage Movement in Turkey Orhan Silier
Preserving Hasankeyf's Cultural Heritage: an International Human Rights Perspective Ece Velioğlu
Environmental and Cultural Heritage Effects in Revitalizing a Mining Town in Mexico: The Case of Cerro De San Pedro José G. Vargas-Hernández
Cultural heritage policy, civil society, and academia: lessons from three recent
projects pertaining to South East Europe Maximilian Hartmuth
Heritage as Battleground: Bulgaria vs. Communism Ivaylo Ditchev
Cultural Heritage in Perspective: A Feature on Roma Lore
Gypsies and the Heritage Question Kevin Robins
Re-membering Spaces: Memory, the Roma and European Discourse on Cultural Heritage Ksenija Vidmar Horvat
The Displacement of Living Roma Heritage in İstanbul: Sulukule Asu Aksoy and Kevin Robins
Dragan Klaic´, A European Intellectual
Dragan Klaić, A European Intellectual Serhan Ada and Kevin Robins
Remembering and Forgetting Communist Cultural Production Dragan Klaić
Text of the Convention on the Value of Cultural Heritage for Society (Faro, 2005) Council of Europe
Reviews
"Seeking Spatial Justice" (Book by Edward Soja.) Book Review by Bob Catterall
Space and Culture Symposium (10-12 September 2011, Kadir Has University) Event Review by Zuhal Ulusoy
Annual KPY Top 10 News Selection
2011's Top Ten Turkish Press Stories on Cultural Policy and Management
_